The David Estrada Hall of Shame
Theft of Powa Assets
Powa 資産の横領
In March of 2017, Powa Technologies entered administration.  For our American friends, that means BANKRUPTCY.  You can read about it here, and here. The founder and CEO, Dan Wagner, was even kicked out on his ass.  At the time Powa went into administration, David Estrada was the so-called "Japan CEO" (as he states on his profile on his personal website).  As Powa's "Man In Japan", Estrada set up and had access to Powa's bank accounts in Japan.  During the final couple of quarters before Powa's bankruptcy, the company had a large client in Japan:  Costco Japan, who were processing B2B invoices using PowaTag.  This business was generating tens of thousands of US dollars in revenues every month, and in fact this was Powa's biggest customer globally at the time of its collapse.
Shortly after Powa entered administration, global chaos ensued with employees not being paid and no one really knowing what was going to become of the former "unicorn status" company.  Estrada took this opportunity to raid Powa's Japanese bank account, and take the money for himself.  At the time Powa entered administration, there was over US$200,000 in Powa's Japanese bank account.  This somehow escaped the notice of Powa's administrators, Deloitte. 
These funds remain unaccounted for to this day.
2017年3月Powa Technologiesが破産申請をしました。アメリカでは"BANKRUPTCY"という用語が一般的に使われます。それについては、こちらとこちらを参照してください。創設者であり同時にCEOであったダン ワグナー(Dan Wagner)氏は会社を追放されました。デイヴィッド エストラーダ氏はいわゆる"日本支社のCEO"(これはあくまでも本人が自身のブログのプロファイル欄にそう載せているだけですが)でした。日本支社のCEOであった彼はPowaが当時所有していた銀行口座へアクセスする権利を与えられていました。破産する前の数か月の間Powaには日本に大口の顧客がいました。コストコジャパンはB2B部門でPowaTagを利用していました。事実グローバルなスケールでコストコはPowaに多大なる収益を与えていました。Powaが倒産し、従業員は給与を受け取ることができず、元ユニコーン企業(10億ドルの評価額を得るスタートアップ企業)に一体何が起こったのかについての説明は一切行われないという大混乱が起きました。エストラーダ氏はこの混乱を見逃しませんでした。彼はPowaの日本の銀行口座にアクセスし、資金を横領したのです。銀行口座には当時総額約2000万円が入っていました。しかも彼自身の口からこの横領について一種の武勇伝として数回にわたりEzeebuyの投資家に伝えられていました。驚くべきは、Powaの破産宣告後監査を担当したデロイト(Deloitte)が、この事実を見つけることができなかったことです。このお金は未だに使途不明なままです。
During the initial period when Estrada was forming EZeeBUY, he approached a member of the Tokyo American Club, Jonas Seme, and invited him to "invest" in EZeeBUY.  Fortunately for Jonas, several other members of TAC warned him about Estrada – that he was a fraud, and had embezzled money from a number of other TAC members.
However, that didn't stop Estrada from FORGING Jonas' signature on a JPortal Partners corporate resolutions document.  (JPortal Partners was Estrada's company, and the holding company for EZeeBUY).
On the corporate resolutions document presented here, the signature of Jonas Seme is FORGED.  We are in possession of ADDITIONAL JPortal corporate resolutions documents, where Estrada has forged the signatures – and we will be publishing those soon.
エストラーダ氏がEzeebuyを創設したばかりの頃、彼は東京アメリカンクラブのメンバーであるジョナス セミ氏にアプローチをし、Ezeebuyへ投資するように話をもちかけました。幸運にも東京アメリカンクラブのメンバーの中にエストラーダ氏について警告する人物がいました。エストラーダ氏は、詐欺行為をし、他のアメリカンクラブのメンバーからお金をだまし取った経緯があることは、メンバーの中ではすでに周知の事実でした。
しかし、投資を得ることには失敗したエストラーダ氏ですが、別の方法で偽装を企てました。JPortal Partners(JPortal Partnersは、エストラーダ氏自身の会社でEZeeBUYの持ち株会社です。)の取締役決議書類に偽装したセミ氏の署名を使用したのです。
下記に示した取締役決議書類上のジョナス セミ氏の署名は偽装です。現在新たな偽装署名が使用されたJPortal Partnersの書類も入手予定です。入手後直ちに公開いたします。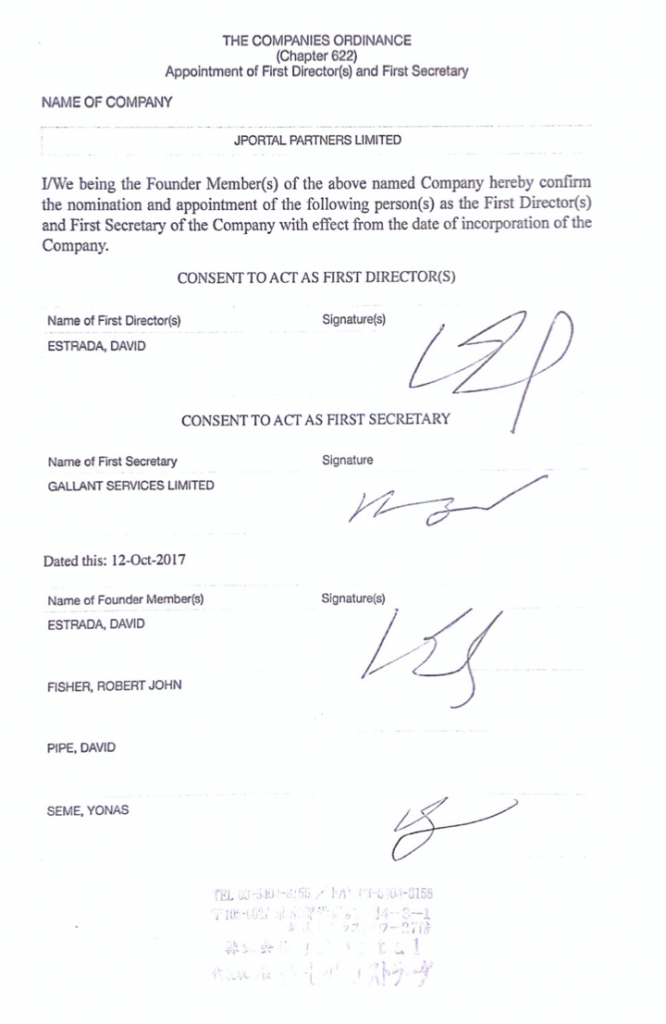 Estrada loves to objectify women, by attending private sex parties, photographing naked women and posting them on his public website.
The EZeeFRAUD Team have received pictures posted by Estrada placing him and his wife – Haruko Estrada – at alcohol and sex-filled debauchery events throughout Tokyo.  Estrada posted and boasted about 25 different events.  (1)
David places himself and his wife at a specific event (2) at the Shinagawa Prince Hotel Club Ex and posts the following photos that objectify naked women, adult entertainers, and others.  He posts pictures of himself (check out those doofus shades!) and his wife holding alcohol and posing with JAV and other entertainers and friends.
DAVID:  Objectifying women is wrong in ANY culture … you probably didn't get written approval to publish nude photos of these women … right?
Certainly you wouldn't want them posting these kind of photos of YOUR wife, would you?  Scumbag.
女性への侮辱かそれとも…
エストラーダ氏は、女性を単なる(性的な)対象として見ているのでしょうか。彼はプライベートセックスパーティーに参加し、裸の女性の写真を撮り、それらを自身のウェブサイトに投稿しています。
我々EZeeFRAUDチームは、エストラーダ氏と妻のエストラーダはるこさんの二人が写っている東京でのアルコールとセックスがらみのやりたい放題のパーティーの様子と思われる写真を入手。この写真は、エストラーダ氏本人により投稿されたものです。エストラーダ氏は自身のブログで25にも及ぶ(ワイルドな)イベントに参加したことを豪語していました。(写真1参照)

エストラーダ氏は、自身と妻が品川プリンスホテルClubExでのイベントに参加したことをブログで公表し(写真2参照)、裸の女性の写真、アダルトエンタテイメントの写真などを投稿していました。エストラーダ氏の顔を見てください。妻のはるこさんもアルコールを片手にJAVやエンタメ関係者などと写真に向かってポーズをとっています。
ここでエストラーダ氏に確認したいのは、彼がこれらの女性のヌード写真を投稿することを、一人一人から承諾を得ているかということです。女性をいわゆる"モノ"として扱う考え方は、許されるべきではありません。エストラーダ氏だって、自分の妻のヌード写真を誰かが無断で投稿したらどんな気持ちになるでしょうか。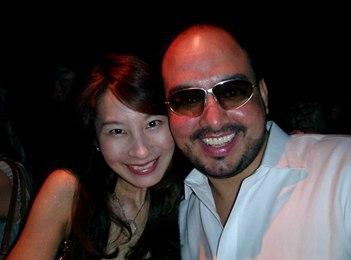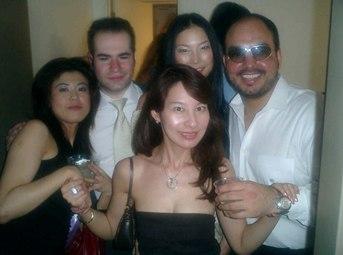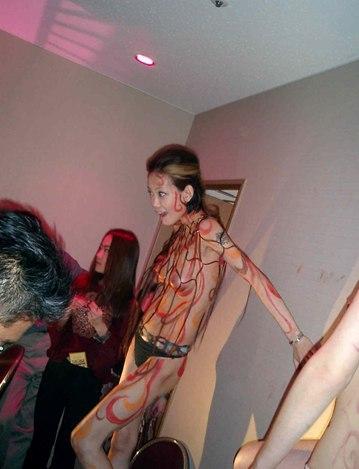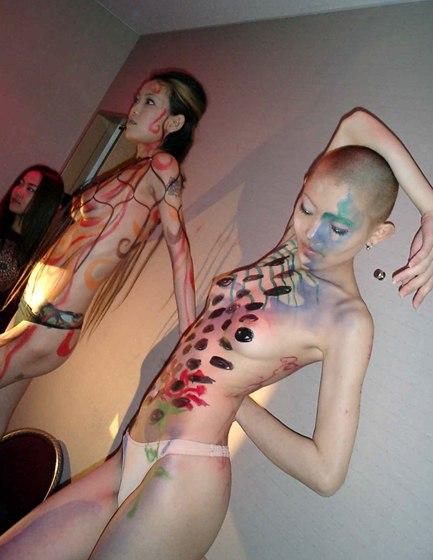 Please Note:  All photos taken from the public domain:
(1) https://web.archive.org/web/20040403183126/http://www.david-estrada.com/parties.htm
(2) https://web.archive.org/web/20040405021934/http://www.david-estrada.com/alan_mikli.htm
Criminal Records of David Estrada
Details of the criminal records in the USA (Travis & Williamson Counties, Texas) of the EZeeBUY founder, David Estrada:
1. Case Number C-1-CR-90-334090 | Offense: Fraud (Issuance of Bad Check) | Date of Offense: 31-Aug-1989 | 
    Offender:  David Eric Estrada, DOB: 26-Mar-1968
2. Case Number C-1-CR-90-346949 | Offense: Fraud (Issuance of Bad Check)  |  Date of Offense: 10-Jan-1990| 
    Offender:  David Eric Estrada, DOB: 26-Mar-1968
3. Case Number C-1-CR-94-413654 | Offense: Fraud (Issuance of Bad Check) |  Date of Offense: 22-Jun-1993| 
    Offender: David Eric Estrada, DOB: 26-Mar-1968
4. Case Number 25251 | Offense: Theft (Check Class B)  |  Date of Offense: 14-Apr-1989  |
    Offender:  David Eric Estrada, DOB: 26-Mar-1968
5. Case Number 94-1580-2  |  Offense: Theft (By check)  |  Date of Offense: n/a  | 
    Offender:  David Eric Estrada, DOB: 26-Mar-1968
All of the above criminal records can be found in the public domain.  This list will be updated for pending criminal charges and investigations currently underway.  Criminal records can be obtained via a search of the Public Domain – for example, by using TruthFinder. 
Unprovable Claims of Luxury Car Ownership
We recently learned that David Estrada's personal website has been archived in the public domain.  To view it and to view his many unfounded lies and misrepresentations please peruse the history.  Note:  the web archive doesn't always render every photo perfectly, but it does capture many of the unprovable claims that David Estrada shared with business colleagues, friends, and co-workers.  Many links that don't render at first can still be clicked on to see the actual archived picture that Estrada posted on his website.
In the screen shots below, you will see false claims of luxury car ownership and unprovable claims that Estrada actually worked at Microsoft Corporation in Japan.  Estrada has previously told friends and colleagues that he owns 11 Ferraris, and has a wine collection with 30,000 bottles.  
Go to:  web.archive.org
Search on:  David-Estrada.com/whoami
Select the desired archived content for your own evaluation
In this post, Estrada boasts of working at Microsoft Corporation, and buying a Ferrari
証明不可能(よって虚偽である)な高級車所有権 
最近エストラーダ氏の個人のウェブサイトがパブリックドメインにアーカイブされていることが判明しました。エストラーダ氏による証明不可能な嘘そして虚偽の数々についていくつかご紹介いたします。ウェブアーカイブ上の写真の中には画像が鮮明ではないものも含まれていますが、エストラーダ氏が同僚、友人、会社関係者と共有した虚偽を立証するには十分な材料となることは確かです。もしクリックをして希望するウェブサイトへ移行しない場合には、お手数ですがこちらまでご連絡をいただけますでしょうか。こちらより改めてリンクを送信致します。 
下記のスクリーンショットは、虚偽の高級車所有権と証明不可能な経歴詐欺―マイクロソフトジャパンでの経歴ーを示しています。エストラーダ氏は、以前友人や同僚に自身が11台のフェラーリを所有し、30000本以上に及ぶワインコレクションがあると豪語していたそうです。 
web.archive.orgのウェブサイトを開き、David-Estrada.com/whoamiをコピー、ペーストし内容を閲覧してみてください。もしこの方法で閲覧することができない場合には、お手数ですがこちらまでご連絡をいただけますでしょうか。こちらより改めてリンクを送信致します。 
下記のスクリーンショットから、エストラーダ氏のマイクロソフトジャパンでの経歴とフェラーリの所有を確認することが出来ます。 

In this post, Estrada displays "his" Ferrari.  He even displays the Ferrari VIN number as a sort of "proof" that it exists.
このスクリーンショットでは、エストラーダ氏自身のフェラーリそしてVIN番号(車両識別番号)を確認することが出来ます(VINをわざわざ掲載したのは非常に不自然ですが、エストラーダ氏がこれは自分の車である!ということを誇示するためなのかもしれません)。 
When checking this VIN number against the internationally recognized VIN database, curiously the car doesn't even exist.  Try for yourself.
Enter the VIN number Estrada claims to own from his website:  ZFFXR41B000110588
See the search result: it shows this car does not exist!
国際的に信用度の高い

VIN database

を使用して、写真の

VIN

番号を検索したところ、この

VIN

番号は存在しないことが判明しました。

 
VIN database

より

ZFFXR41B000110588

を入力してみてください。

 

あなたの検索結果からもこの車が存在しないことがお分かりになるはずです。

 
Given Estrada's bold claims of Ferrari ownership, and given the VIN numbers he provided on the site don't even correspond with any actual Ferrari by the internationally recognized VIN database, the reader is left to conclude that this is one large fraudulent claim by David Estrada.
And another thing:  If you wanted to show off to your friends that you own a Ferrari, wouldn't you maybe post photos of YOURSELF STANDING NEXT TO THE FERRARI?
In fact, he has claimed numerous times to numerous co-workers that he owns 11 Ferraris.  There is absolutely NO EVIDENCE that this is true.  Also, he walks everywhere in Tokyo, where he lives.  
エストラーダ氏が自身のオーナーシップを誇示するために掲載したフェラーリの写真、そして実際のどのフェラーリとも合致しないVIN。つまりこのVINで車を所有することは不可能で、これもエストラーダ氏の嘘の一つなのです。 
フェラーリの写真の数々を見てあなたはもうすでにお気づきになったかもしれませんが、エストラーダ氏は一枚も自身とフェラーリが並んで写っている写真を投稿していません。不自然だと思いませんか。 
エストラーダ氏は何度も何度も同僚に11台のフェラーリのことを自慢していました。しかし、彼が実際に1台のフェラーリでさえ所有したという事実はどこにもありません。しかもエストラーダ氏は東京市内を移動するときはいつでも歩きまたは公共の交通機関等を利用していました。同僚の中にも彼のフェラーリを見た者は一人もいません。 

False Claims of a Harvard Degree
Estrada claims he is a graduate of Harvard University.  However, investigations by the EZeeFRAUD Team have proven this to be false.  Estrada included this claim in the bio he submitted to mc.ai (an aggregated news site about Artificial Intelligence) – which can be found here. Under his bio, it says:
エストラーダ氏の経歴では、彼は、名門ハーバード大学より学位を得たことになっています。しかし我々EZeeFRAUDチームの調査によると、これは全くの嘘でエストラーダ氏が学歴詐欺を行っていたことが判明しました。この学歴詐欺の情報は mc.ai (AI総合ニュースサイト)に載っています。こちら(here)をクリックするとご覧いただけます。エストラーダ氏の経歴ページには、以下のような記述があります。書かれていることが本当であれば、多くの人たちがエストラーダ氏のビジネスパートナーになりたいと思うでしょう。 
デイビッドは、ハーバード大学を卒業後一連のビジネスを起こした起業家です。約25年前にマイクロソフト社で働くために来日しました。デイビッドは、デジタルトランスフォーメーションスペシャリストとしてデジタルを通してどのように我々の今日そして明日を向上させるかについて終わりなき探求心で躍進し続けます。 
For a long period of time, Estrada also listed a degree from Harvard on his LinkedIn page.  He has since removed it, after this site published the fact that it was a total fabrication.  Here is a pdf download of his LinkedIn page before he removed his fake Harvard Degree:
エストラーダ氏は、長期に渡りLinkedInページで、ハーバード大学の(虚偽の)学位情報を掲載していました。しかし、我々の調査結果を基にエストラーダ氏の学歴詐欺をこのウェブサイトに掲載した後、彼はLinkedInから学位情報を削除しました。しかし、ここにLinkedInからダウンロードしたエストラーダ氏の経歴詐欺の証拠(PDF)をご覧いただけます。 
The EZeeFRAUD Team have done a full background check on Estrada, including his educational credentials.  Turns out, he has NO DEGREE FROM HARVARD UNIVERSITY.  Here are the results of checking Estrada's Harvard degree with the National Student Clearinghouse:
EZeeFRAUDチームは、エストラーダ氏の経歴を含む綿密なバックグラウンド調査を行いました。結果として、エストラーダ氏の学歴に対する情報は、すべて嘘だったことが判明しました。彼はハーバード大学からの学歴を取得していません。下記のスクリーンショットがNational Student Clearinghouseによるハーバード大学学位についての検索結果です。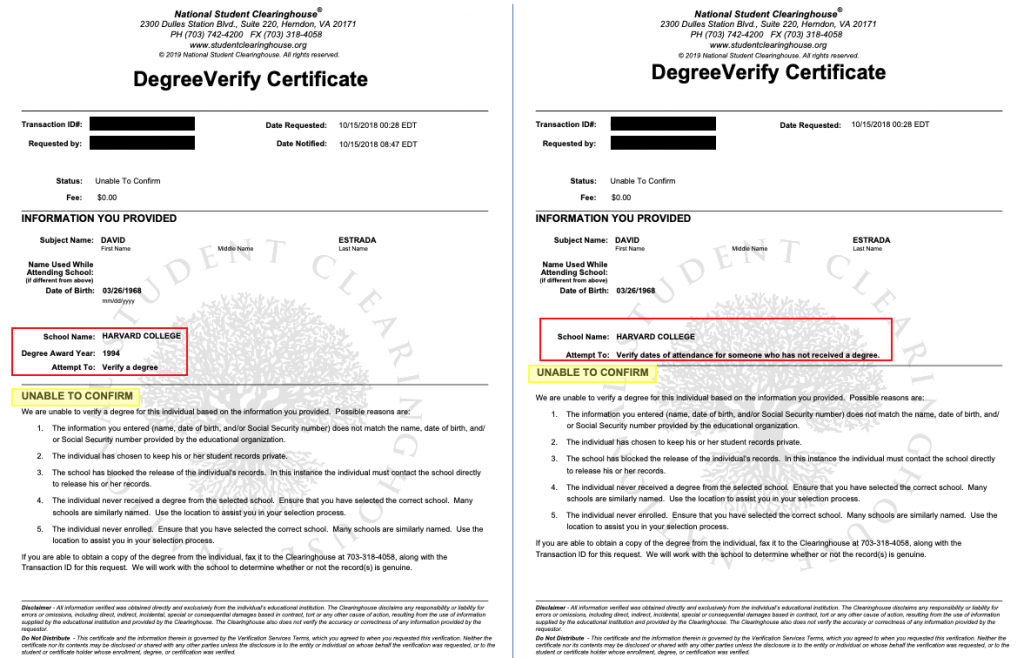 Estrada also claims to have an undergraduate degree from St. Edwards University.  He still lists this claim on his LinkedIn page.  However, due diligence reveals that this is also false. To be clear, despite listing "St. Edwards Management & Business, International Business" on his linkedin and personal profiles, Estrada earned NO DEGREE from St. Edwards University. On his LinkedIn profile he displays St. Edwards academic work such that an average person would conclude he has a degree in Business and International Studies from this University. His listing leads the average reader to believe he has a double major in both Management & Business and International Business. This conclusion helps bolster an image about Estrada that he is long tenured in business and well trained in business. It leverages the strong academic reputation of St. Edwards University and elevates Estrada in the process. In fact, Estrada did not study Management & Business. We know this to be true because there is no such degree of study called "Management & Business" at the school. 
See for yourself here.
Verify for yourself:
• People interested in potentially working with Estrada should ask him about his undergraduate degree. Ask Estrada for an official transcript of his classes to be sent directly from the Registrar's office to verify which classes he actually took and how he performed.
• Inquire why Estrada has a misleading double major listed on his LinkedIn profile.
• Understand precisely which classes Estrada actually has formal academic training in.
• Ask why he never earned an undergraduate degree.
• Inquire why Estrada listed Harvard University on his LinkedIn and personal profile for so long, despite having no academic association with Harvard.
Answers to the above questions may influence why you would want to invest money or time or your business network with Estrada.
Be careful.
エストラーダ氏は自身の学歴にセントエドワーズ大学を卒業したと公表しています。この学歴も嘘であったことが判明しました。LinkedInページ上では、セントエドワーズ大学でマネージメントと国際ビジネスを勉強したことになっていますが、実はエストラーダ氏はセントエドワーズ大学を卒業していません。彼の虚偽の(マネージメントと国際ビジネスの二重専攻)学歴から誰もが、ビジネスを勉強し、ビジネスに精通している人間像を思い浮かべることでしょう。事実エストラーダ氏が掲載したマネージメント&ビジネス("Management & Business")という専攻自体存在しません。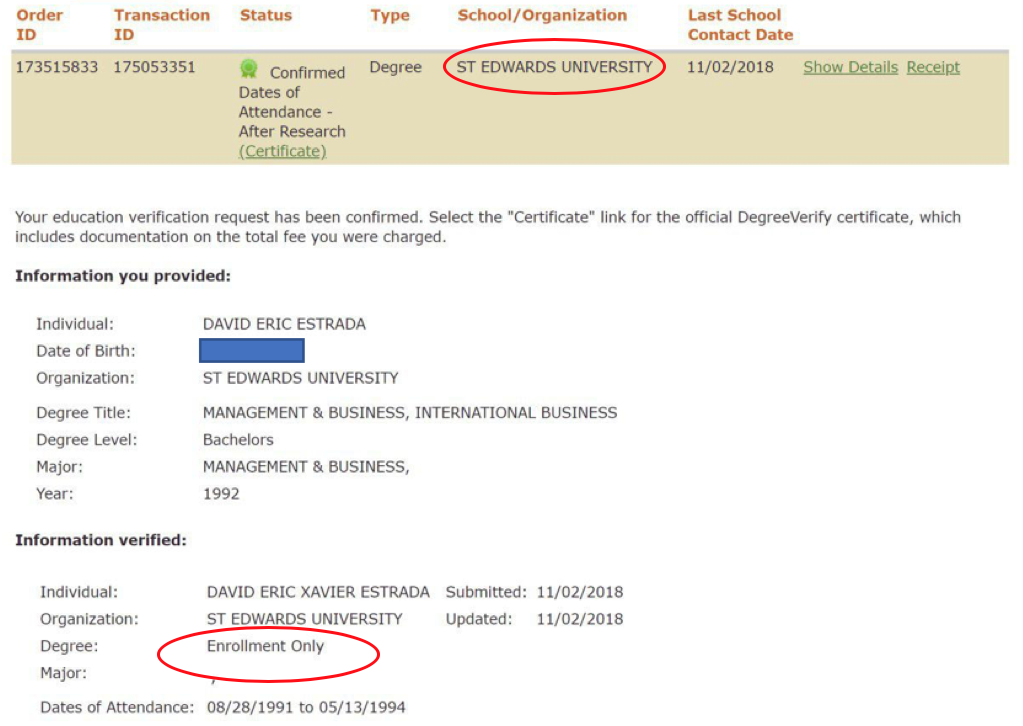 We're beginning to wonder if he ever graduated from High School….
Video of Investor Presentation
Below is a video of an investor presentation made by David Estrada during the Asian roadshow sponsored by Priority Token.  Estrada makes numerous false claims and misrepresentations in this presentation, seeking to defraud more investors:
None of the app functionality that he describes existed at the time of this presentation.  He's basically selling vaporware here.
Around the 5:00 mark, he claims EZeeBUY has already built anonymous clusters of consumers.  This is untrue.
Around the 5:27 mark, he talks about something he calls "precision personalized branding" (whatever that means).  It's nonsense – doesn't exist.
In the presentation, all of his features and product names have the "TM" symbol, leading investors to believe they are trademarked.  In fact, no trademarks exist of have been applied for.  This can be verified using trademark databases in the public domain.
At the 5:50 mark, he claims the technology can identify brands and preferences in the consumer's photo library.  This functionality does not exist.
At the 6:30 mark, he claims EZeeBUY have "already signed a retail partner".  At the time of this presentation, no contracts with retail partners were signed.
At the 7:20 mark, Estrada claims that EZeeBUY is fully integrated with all social media platforms.  Again, not true.
At the 7:45 mark, Estrada again claims EZeeBUY has "signed" a retail partner, and identifies this partner as Toys"R"Us Japan.  No contact was ever signed with Toys"R"Us Japan.
At the 9:30 mark, Estrada explains estimated viral user adoption driven by social media.  All of these numbers are made up … they are based on nothing.
At the 9:52 mark, Estrada shows a number of EZeeBUY partners – The only ACTUAL partnership on that slide is with Priority Token, who were also defrauded.  They were never paid for the work they performed for EZeeBUY, per their contract (signed by David Estrada).
At the 10:21 mark, Estrada displays a slide showing the Leadership Team.  EVERY PERSON on that slide was defrauded by Estrada – he took their investment in EZeeBUY, and spent it on his own personal luxury lifestyle.  Capital contributed to EZeeBUY from co-founders remain unaccounted for to this day.
At the 10:48 mark, Estrada claims he was involved with raising $12 million for a company called MPayME.  Estrada NEVER worked for MPayMe, and had NOTHING to do with the capital raised by that company.
The biggest lie:  At the 11:02 mark, Estrada claims EZeeBUY has raised $2 million in investment capital.  In fact, the ONLY capital raised was approx. $160,000 from co-founders, who were ALL defrauded.  At the 11:02 mark, he claims the founders put in $500,000 (I'm sure he wishes that was the case … more money for him to steal.). At the 11:12 mark, he claims $600,000 was raised by "seed investors" – this is a blatant lie.  At the 11:27 mark, he claims $1 million has been raised "in the last 2 weeks" … another total fabrication.
 At the 12:00 mark, Estrada shows a slide listing numerous advisors, and claims half of them are also investors.  This is actually TRUE – the bad news, however, is that they were defrauded too.
At the 12:38 mark, Estrada repeats false claims about how much money EZeeBUY has raised.
The purpose of sharing this video is to demonstrate the lengths Estrada will go to in order to defraud investors.
As part of his ongoing EZeeBUY fraud, Estrada at one point convinced an investment fund in Hong Kong to invest in EZeeBUY.  The name of this company is Wai Chun Fund and they are headquartered in Hong Kong.  The EZeeFRAUD Team understand that, acting on a tip, one of the original co-founders of EZeeBUY who had been defrauded, blew the whistle and provided the directors of Wai Chun Fund evidence of Estrada's fraud.  It is understood that Wai Chun were preparing to invest up to US $2.5 million into EZeeBUY when they were alerted to this evidence of potential fraud.
After reviewing the evidence with external legal counsel, Wai Chun Fund decided to withdraw their offer to invest in EZeeBUY, and ceased all contact/communication with David Estrada citing potential damage to their reputation from being associated with a fraudster and known criminal.  We would recommend that ANY BUSINESS seeking to invest in EZeeBUY or considering doing business with David Estrada in any form, take lessons from the experience of Wai Chun Fund who, if not alerted prior to their investment, would have been defrauded of up to US $2.5 million.

Some of you out there may be wondering how we obtain information as to what the fraudster David Estrada is up to.  Or how we find out about the many frauds he perpetrated prior to EZeeBUY, or who he's ripped off in the past (for example, borrowing money from Tokyo American Club members, and never paying it back).  Well, much of the information comes from people like YOU!  We often receive anonymous tips from former "friends" of Estrada, or from people whom he has defrauded in the past.  For example, here is an anonymous tip we recently received:
So please KEEP THOSE TIPS COMING, good people!  The only way we can prevent Estrada from defrauding others is to expose his frauds to the world.  You can email us anonymously at:  admin@ezeefraud.com
Thank you!